Morningside College
---
---
Note: This is an on-going process. If you happen to have access to older stats that you see we are missing please forward that information.
For more information please email quickstats@qkstats.net
Thank you.
NAIA Division II Natioanl Championships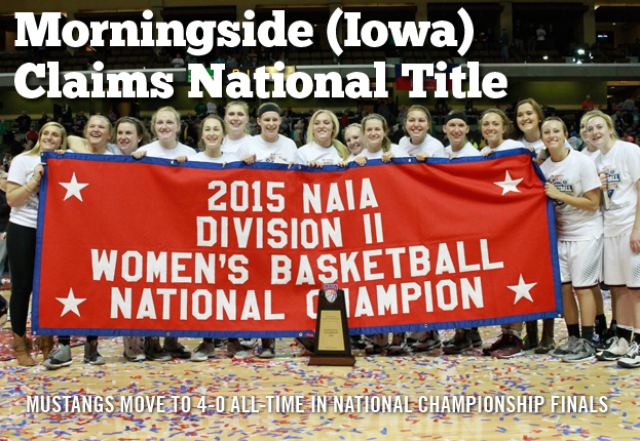 DATE: March 17, 2015
SIOUX CITY, IOWA - Lexi Ackerman made two free throws with two seconds left to lift No. 1-ranked Morningside to a 59-57 victory against No. 3 Concordia in Tuesday's NAIA Division II Women's Basketball National Championship Game in Sioux City's Tyson Events Center/Gateway Arena.
The victory enabled the Mustangs to avenge their only setback in a 37-1 season after they had lost 80-72 against the same Bulldogs in the Great Plains Athletic Conference (GPAC) Tournament Championship Game exactly two weeks earlier on March 3.
Concordia finished with a record of 35-3, with all three losses coming against Morningside.
Morningside won its fourth NAIA II National Championship during the Jamie Sale coaching era, joining its previous title teams of 2004, 2005, and 2009.
The Mustangs had to overcome adversity to win their latest title, as they marched through the tournament field with five victories while playing without their most decorated player, three-time first-team All-GPAC forward Ashlynn Muhl, who underwent season-ending surgery one day before the tournament began.
Muhl's understudy, junior forward Jessica Tietz, stepped up admirably and was named the tournament's MVP after she led the Mustangs with 17 points and 12 rebounds in the title game for her second double-double of the tournament. Ackerman joined her in double figures with 14 points, followed by Allison Bachman with seven tallies and Taylor Bahensky and Mallorie Moore, each with six.
Jordyn Wollenburg, recipient of the tournament's Hustle Award, grabbed 12 rebounds to share game honors with Tietz and help lead the Mustangs to a 47-40 advantage on the boards.
Tracy Peitz led Concordia with 15 points, followed by Bailey Morris with 14 and Kelsey Hizer with 10. Morris, the NAIA Division II National Player of the Year, added a game-high eight assists. Becky Mueller led the Bulldogs on the boards with 10 rebounds, while the senior Hizer had nine caroms to finish one board shy of a double-double in her collegiate finale.
The Mustangs shot just 29.0 percent for the game, but offset their cold shooting with a favorable 20-9 differential in the turnover count.
Morningside trailed by seven points, 38-31, early in the second half and was down by four points, 57-53, with just 1:56 left to play after the Bulldogs' Jericca Pearson scored off an offensive rebound.
The Mustangs closed within 57-56 when Tietz turned an offensive rebound into a conventional 3-point play with 1:27 left, and then tied the score at 57-57 when Tietz made one of two free throws with 55.8 seconds left.
The Mustangs' defensive play, which kept them in the game all night while their shooters struggled, came up with a huge stop when the shot clock ran out on Concordia.
That set the stage for Ackerman, who was fouled with two seconds left on a drive to the basket and then made both free throws to account for the closest winning margin in NAIA II Championship Game history.
The Mustangs had led for only three minutes prior to the final score. Morningside took its first lead of the night at 42-41 when Ackerman made a pair of free throws with 12:17 left and held the lead until Peitz scored off an offensive rebound to put Concordia back in front 45-44 with 9:16 left.
Morningside never led in the first half and trailed by as many as 12 points after a steal and layup by Peitz put the Bulldogs up 26-14 with5:26 left in the half. Morningside, which misfired on 17 of its first 22 shots of the game, staged a mini 10-4 scoring run at the end of the half to close within 30-24 at the intermission.
Peitz and Hizer each had eight points to lead Concordia at the break. Morris, a two-time GPAC Player of the Year and the Bulldogs' all-time leading scorer with 2054 career points, had only five points in the first half, but dazzled as a playmaker with eight assists, including assists on seven of her team's first 10 baskets of the game.
Tietz was the Mustangs' first half standout with nine points and 10 rebounds, while Moore, who saw only limited minutes during the regular season, came up big off the bench with six points and a pair of steals.
Tietz named captain of Tournament team and Sale named coach of the year.
Story Courtesy of Morningside Sports Information
Morningside Caps 38-0 Season With NAIA Division III Women's Basketball Title
Morningside put the finishing touches on a storybook season when the Mustangs won the NAIA Division II National Championship with a 68-63 victory against GPAC rival
Hastings College in Tuesday's NAIA II title game in Sioux City's Tyson Events Center/Gateway Arena in a marquee matchup that pitted two teams that had combined to win five of the previous seven NAIA II national titles.
Morningside, which also won national titles in 2004 and 2005, finished the campaign with a 38-0 record and joined Indiana Wesleyan in 2007 as the only teams in history to win the NAIA II crown with an undefeated record.
Eighteenth-ranked Hastings was the cinderella finalist after a fifth place GPAC finish during the regular season. The Broncos upset second-ranked Shawnee State in the second round and No. 3 College of the Ozarks in the semifinals. For awhile, it looked like they might add top-ranked Morningside to their list of upset victims when Hastings took a 50-44 lead midway through the second half before the Mustangs rallied to keep their undefeated season intact.
Dani Gass, named to the all-tournament team, fueled the Mustangs' triumph with game-high totals of 24 points and 12 rebounds for her 10th double-double of the season. The 12 rebounds matched her season's high.
Leslie Foral gave the Mustangs one of her top offensive performances of the season with 14 points and Roni Miller provided 11 points off the bench. Brittany Williamson just missed double figures with eight points.


Autumn Bartel (left), named the national tournament MVP, dealt a game-high five assists and had four steals to share Mustang honors with Foral.
The 12 rebounds by Gass and a career-high seven rebounds by Laura Nelson led the Mustangs to a 36-30 advantage on the boards. Nelson also had seven rebounds in the Mustangs' semifinal round victory against Northwestern College.
Lindsay Ducey had a double-double of 18 points and 10 rebounds for Hastings and was joined in double figures by Kay Broekemeier with 14 points, Kim Faimon with 12, and Heather McKeon with 10.
Hastings took an early 5-4 lead after a 3-pointer by Broekemeier and a basket by Rachel Isherwood, but Morningside answered with a 13-point run, capped by back-to-back 3-pointers by Gass from the top of the key, to go up 17-5 with 13:30 left in the half. Foral was also instrumental in the early Mustang spurt when she drove into the lane for one score and also drilled a jumper from the baseline.
Faimon rallied the Broncos with a conventional 3-point play along with a 3-point bomb and then Becky Tesch drilled a 3-pointer of her own to pull Hastings within 23-17 with 10:10 left in the half. The Broncos kept charging by working the ball inside to Ducey for her first two baskets of the game, followed by a Broekmeier 3-pointer to close within 25-24 with 5:50 left.
Foral quieted the Broncos' rally with a 3-pointer to start a stretch where the Mustangs outscored their opponent 14-6 over the final 5:26 of the half to take a 39-30 lead into the intermission.
Ducey scored the Broncos' first eight points of the second half to lead Hastings on a 20-5 spurt to start the second half. The Broncos opened up a 50-44 lead for their largest advantage of the game when Faimon made two free throws with 12:17 remaining. Led by Gass and Miller, the Mustangs didn't buckle and went on an 18-4 run to surge in front 62-54 with 3:51 left. Gass and Miller each scored seven points during the pivotal run.
Hastings rallied within 64-61 with 1:03 left on a 3-pointer by McKeon, but the Mustangs held on with some clutch free throw shooting down the stretch by Foral and Miller to wrap up their third national championship of the decade.
*Story from Dave Rebstock, Pictures from Chadd Goosmann
Gass and Bartel (MVP) named to All-tournament Team
Gass named NAIA player of the year and Jamie Sale named coach of the year.
MORNINGSIDE COLLEGE WINS SECOND STRAIGHT NATIONAL CHAMPIONSHIP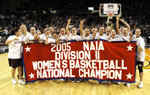 SIOUX CITY, Iowa – Morningside College (Iowa) defeated Cedarville University (Ohio) 75-65 in national championship game of the 2005 NAIA Division II Women's Basketball National Championship held at Tyson Events Center/Gateway Arena to repeat as national champions.

In front of an estimated home town crowd of 6,500, a repeat of last years national championship game gave the crowd a thrill as Morningside jumped to a five point lead. Cedarville would fight back to take a five point lead, however tournament MVP and NAIA Player-of-the-Year Megan Cloud would scored 18 first half points on (7-for-12) shooting and (4-for-8) from the 3-point line to give the Mustangs a 39-30 half-time lead.

Cedarville had two players in double figures lead by Brittany Smart who earned the tournament Hustle Award as she finished with 21 points and dished out six assists. Emily Delimpo finished with a double-double as she scored 18 points and pulled down a game high twenty rebounds. Senior Kari Flunker finished with eight points which moves her eighth on the All-Time Career tournament scoring leaders as she finished with 202 points.

Morningside was led by Megan Cloud who finished with 28 points on (9-for-18) shooting, which moved her into third place on the All-Time Career Tournament Scoring leaders with 240. "This title is a more exciting!" said Cloud, when asked which title was more exciting to win. "This was my last game, and there is no better way to go out."

Jull Pundenz also finished in double figures as she scored 14 points, while Brittany Carper who earned 1st team All-Tournament honors, finished with 12 points, and dished out a game high 12 assists.

The Moringside Mustangs finished the year with a 35-3 record, while runner-up Cedarville ended the season with a 35-2 record.

2005 All-Tournament Team

Kari Flunker, Cedarville University
Brittany Carper, Morningside College
Brittanny Smart, Cedarville University
Kari Saving, Concordia University
Natasha Neal, Evangel University

Tournament Most Valuable Player

Megan Cloud, Morningside College


Coach of the Year
Jamie Sale, Morningside College


2003-04 NAIA Division II National Champions
Brittany Carper named player of the year.
Jamie Sales named coach of the year
Mustangs Are #1, Morningside Wins GPAC's Fourth Straight National Crown
Morningside used a record setting 3-point shooting display to win its first-ever women's basketball national championship when it defeated Cedarville University 87-74 in Tuesday's title game of the NAIA Division II National Tournament in Sioux City's Tyson Events Center/Gateway Arena.
The Mustangs made a national tournament single-game record 17 3-point field goals to erase the former record of 15 3-pointers the Mustangs made in their opening round 94-66 win against Spalding University. Morningside shot a sizzling 48.6 percent from beyond the 3-point arc with 17 treys in 35 attempts. The 17 3-pointers also tied the Mustangs' school record they had set during the regular season in a win against Waldorf College. Morningside had 47 3-point field goals in its five national tournament games to also set a record.
Megan Cloud led the way by bombing in eight of 11 3-point shots to tie the national tournament single-game record. Cloud, who finished with 34 points to go along with six assists and six rebounds, was named the tournament's Most Valuable Player. She was joined on the all-tournament team by teammates Brittany Carper and Kate Lokken.
The win came against a Cedarville team that was ranked second in the nation and had taken out GPAC powers Concordia University and two-time defending national champion Hastings College in the quarterfinals and semifinals.
Morningside finished its storybook season with a 34-4 record to set a school-record for victories, while Cedarville bowed out at 35-3 and had its 23-game winning streak snapped.
Aside from Cloud's game-high 34-point performance, the Mustangs also received double-double efforts from Carper and Lokken. Carper finished with 17 points, a game-high 11 assists, and eight rebounds, while Lokken went for 17 points and 10 rebounds.
Jill Pudenz just missed double figures with nine points, followed by Beth Watson, six; and Kayla Wibben, four. Wibben also had seven rebounds to finish one shy of her career high.
The Mustangs started their 3-point assault immediately when Lokken struck for a pair of early treys to give the Mustangs a 6-2 lead two minutes into the contest.
The Mustangs took their first double figure lead at the 14:37 mark when Cloud made another 3-pointer from the top of the key for a 16-6 lead.
Cedarville battled back within four points, 16-12, when Kari Flunker scored from close range. Cloud ended the six-point Yellow Jacket run with her third 3-pointer of the game, then she scored from the baseline the next time down the floor to increase the Mustangs' cushion to 21-12 and cap a run where she scored 11 of the team's first 21 points.
Morningside opened another 10-point lead, 24-14, when super sub Beth Watson struck from 3-point range at the 11-minute mark. Morningside opened up a 12-point advantage, its largest of the half, when Carper drilled a short range jumper at the 10:20 mark.
The Yellow Jackets tied the score at 35-35 when Kristi Beougher made the second end of a two-shot foul with 26.1 seconds left to complete a run of eight straight Cedarville points. Lokken put the Mustangs up 38-35 at the intermission when she sank a 3-pointer just prior to the horn.
The Mustangs pushed their lead back into double figures when Lokken struck from 3-point range to make it 48-38 with 16:45 left in the game. Pudenz joined the Mustangs' 3-point act when she struck from the baseline to give the Mustangs' a 51-38 lead, then Cloud drilled another 3-pointer to give the Mustangs' their largest lead to that point, 54-38, with 15:41 left.
The Mustangs continued to bomb away from 3-point distance and used 3-pointers by Watson and Carper to increase the margin to 19 points, 64-45, at the 12-minute mark.
Cloud drilled the Mustangs' national tournament record-breaking 16th 3-point field goal of the game with 8:58 left to put the Mustangs in front 67-49.
The Yellow Jackets fought back within 10 points, 77-67, when Kari Flunker made a pair of free throws with 2:58 remaining to complete a 22-10 Yellow Jacket run. Cloud ended the Yellow Jackets' comeback bid when she drilled her national tournament record tying eighth 3-pointer of the game.
The championship is the fourth straight for the GPAC, with Northwestern winning in 2001 and Hastings in 2002 and 2003.